At Booth Tooth Annandale Dental Clinic, your satisfaction is our No. 1 priority!
At Booth Dental, we pride ourselves on our friendly, respectful approach towards our patients and the high-quality dental care services that we provide. Our support staff and qualified dentists go out of their way to provide exceptional dental care.
For us, our patients come first. Our top priority is to make your dental care experience the absolute best it can be. We understand the needs of our patients and are committed to building enduring relationships based on trust.
Our team is equipped to assist all members of the community with modern dental care services. We provide these services at the clean, modern, friendly and relaxed environment of Booth Dental Clinic. When you come to us for treatment, we spend time with you to understand your specific oral health needs. We will provide a full explanation of whatever treatment or procedure we suggest, to your satisfaction. The final decision is yours and we fully support and stand by you. In addition, Booth Dental Clinic has proudly been recognized as one of
Australia's top dentists
. At Booth Dental, we treat our patients as if they were our own family. Welcome.
Dr Christine Nguyen graduated from the University of Sydney with a Bachelor of Dentistry in 2007, completed her primary examination with the Royal Australasian College of Dental Surgeons and has worked in both the public and private sectors all over the eastern side of Australia.
She has been involved in volunteer work with Indigenous communities in the past and has held a teaching role as a clinical educator for first year Sydney University students for five years.
Christine enjoys all aspects of dentistry, but her current interest is understanding the effects of the mouth on the entire body. The aspects of her work day she loves the most are making her patients feel at ease, helping them make a difference in their oral health and building meaningful relationships with her patients.
Outside of dentistry, Christine enjoys music, trying new foods, travelling, clinical Pilates, doing small projects with her identical twin sister (you may mistake her twin sister for Christine when she visits Annandale village) and, most importantly, spending time with her young family of three children.
Dr Frank Nguyen completed his Bachelor of Dentistry at the University of Sydney, where he also met his future wife!
There is nothing that Frank loves more than helping people, using his skills and knowledge to solve problems and restoring smiles while connecting with them. Dentistry truly is his perfect career.
Frank is extremely detail-oriented and meticulous when providing any kind of dental treatment, which helps to ensure patients benefit from reliable and long-lasting work.
Dedicated to ongoing professional development, Frank has completed his primary examinations at the Royal Australasian College of Dental Surgeons, and he has also taught at the Faculty of Dentistry at the University of Sydney for nine years. In 2014, Frank completed his Diploma in Conscious Sedation and Pain Control, as he is committed to ensuring even the most nervous patient can comfortably and safely receive treatment.
He is particularly interested in restorative dentistry and especially in using advanced CADCAM technology to create precision-made restorations for his patients. As a dad, he is also interested in paediatric dentistry and preventative dental care.
Outside of our Annandale practice, Frank is an avid photographer who enjoys the thrills of snowboarding and surfing, practising his culinary skills and spending time with his family.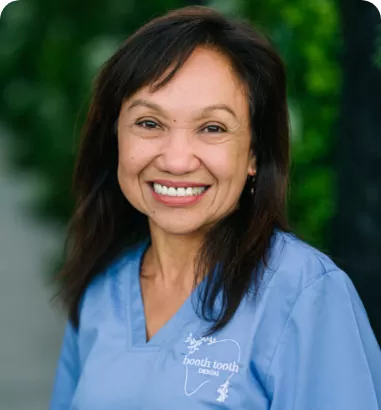 Freni has been a dental nurse for over 20 years and has wide experience in providing exceptional care to patients from all walks of life. She loves her job and understands that not all patients are comfortable walking into a dentist's office…
Freni goes out of her way to put apprehensive patients at ease, gently and patiently answering any questions they may have.
If you are a patient walking through the doors of a dental clinic, Freni is the type of person you wish would be by your side. Her empathy, care and concern for her patients make her a perfect match for Booth Dental's philosophy.
Gemma grew up in Sydney and is passionate about the dental industry. She recently graduated from the Dental Hospital in New South Wales and has a special interest in the fields of restorative dentistry and complex dentistry…
Gemma loves interacting with people and that's one of the things she loves about being part of the Booth Dental team. She is committed to creating a happy and satisfying dental care experience for every patient. Gemma has a gift for helping even the most nervous patients feel calm and comfortable.
Maddy is originally from Melbourne, where she completed her dental assistant training. With over ten years' experience, she has worked as a dental assistant and receptionist across Australia…
Maddy has a keen interest in oral hygiene and cleaning, wanting patients to feel proud of their smiles. At Booth Dental, she works with the best dentists to provide utmost care and comfort to all patients.
Outside of the dental setting, Maddy is an avid animal lover and is currently completing her veterinary studies in order to combine her passions for health and animals.
We Make Getting a Healthy Smile as Easy as…
Call us on (02) 9552 2768 to make an appointment
Visit us and enjoy the relaxed environment and a sense of control, as we explain what's happening and check in with you regularly
Look forward to a more confident smile - we work with you to create a personalised plan that will have you looking and feeling great well into the future.